Denno's Wedding Trip
April 2003
Friday 18th April 2003
Trip got off to a quiet start, Davo, Frank and Derek meeting at airport with little drama.
Qantas, stellar airline that they are were unable to seat the three Lads together at check in, however this was rectified at the Qantas Club Lounge.  Everyone was happy about this, with the possible exception of Derek who, upon boarding, realized he had given up a Business Class Seat in order to bump elbows with Frank.
Flight was quite pleasant, made enjoyable by Derek and Frank taking the piss out of a bizarre looking Qantas Steward, who had a hair style that reminded you of a runway.  This was made even funnier, when Frank gave Davo the proverbial elbow in the ribs to make him look at Runway Head walking past, which Runway Head saw, and doubled back to ask Davo if he needed something.
The stewards were further antagonized by Davo politely yelling "hey" to get one's attention.
The Lad's braved SARS infected Singapore airport mask free, and slummed it in the First Class Lounge.  Davo started a pattern that would repeat itself in airport lounges across the world - which consisted of starting and not finishing a range of food, drinks and crossword puzzles. 
The long haul flight from Singapore to Frankfurt was made rather short by Davo, who fell asleep before take-off.  Derek claimed that Davo had in fact got 9.5 hours sleep during the first 9 hours of the flight.  The Qantas head steward came around to have a chat with frequent flyer Davo during the flight, only to find Derek (Davo relocated to an empty row).  Derek proceeded to impersonate Davo.
Saturday 19th April 2003
Arriving in Frankfurt at the entirely inappropriate hour of , the airport was  empty except for the Lads and security guards.  The Germans - usually high tech champions – favoured the decidedly low tech security screening option of full body frisking, which included several close calls with the ballbag, and a dangerously close encounter behind the belt.  This produced a moment of panic for Derek, who as per usual was not wearing underpants.   Derek, pondering the correct way to inform the security guard that he was "commando" decided that the literal translation would be "Ich bin ein Stormtrooper".
The Lads retired to the quietest Business Lounge in history, where not even elevator music was present to interrupt you.  One could argue that Yahtzee is not the ideal game for such a location, however we played anyway and Davo was victorious.
The flight from Frankfurt to London was another example of Qantas' ability to seat passengers, as well as the undulating fortunes Derek and Frank would endure.  Derek, separated from Davo and Frank again, was thought lucky when a German Supermodel was seated next to him.  His joy was increased, when Mr Stinky took a seat next to Frank.  Not to worry though – a seating conflict saw Davo and Frank upgraded to business class.  Frank, not wanting to let the chance to indulge slip past, sampled the meal and promptly received food poisoning, signaling the full cycle of luck.
Groom to be Denno was at Heathrow to meet the Lads – amazingly we managed to fit all four people and luggage (including Franks 5 bags) into the Silver Bullet – Denno & Lou's Volvo.  It made for a tight trip, but after Qantas Economy it was a walk in the park.  It was during this trip that Frank and Derek, perhaps suffering from acute travel fatigue, elected Jan Captain of the Ushers.
It was back to Denno's flat for a quick clean up (or clean out in Derek's case) and then on to the Mason Arms for Lunch with the Ushers and the McVeys.  Denno, usually a calm and cool character, set an early tone by falling to pieces when the McVey's arrived – particularly Graham.  Fussing around nervously, he referred to Graham as "Sir" on at least 3 occasions.  The last time Denno was heard using the word "Sir" was when he was explaining his actions to a policeman.
Enough was enough for Derek and Frank – they decided to head to the country for a couple of days on farm.  Frank was already feeling claustrophobic in the big city and Derek wanted to suck up to his inlaws.  The McVeys and Denno were all off to Louise's Confirmation, which left Davo, Jan and Brad Dare to find something to do.  This ended up being a low key trip to the Walkabout Pub to watch the last session of Australia v West Indies Test Match.  Apparently the English do not drink Bourbon and Dry – the three Lads drank them out of it early in the night. 
Jan made the night interesting by trying to steal a cigarette from some guy's pack while he wasn't looking, only to get busted.  Jan, far from being embarrassed, just stared the guy down.  This brazen display of masculinity impressed a few girls who were sniffing around Jan, but Jan still managed to shmarn later on.
Sunday 20th April, 2003
After a mildly late start which saw Davo and Dare both sleeping on the floor (Dare was in the dog house!) it was off to the "Settle In" for lunch with Denno, Lou and some selected Dennett & James family members.  Denno recommended the house specialty which resulted in everyone eating a whole baked chicken each.  From there it was on to the Dennett family apartment to catch up with the rest of the Dennett clan, including Lunatic Luke James.  Everyone enjoyed drinking Steve's wine for a couple of hours, except Jan who got flogged by Luke in the "Frogs game".
<![if !vml]>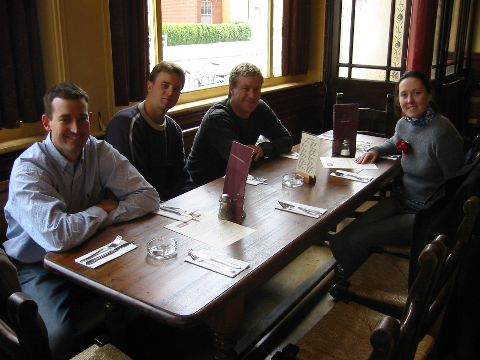 <![endif]>
Part of the crew at the Settle in Sunday
Once the wine ran out (or the Dennetts wised up and stopped offering it), Denno, Davo, Jan and Mal departed to find a pub that would be showing the cricket.  After traversing three quarters of London, a suitable establishment was found in Earl's Court, where pints, yahtzee and cricket were enjoyed.
<![if !vml]>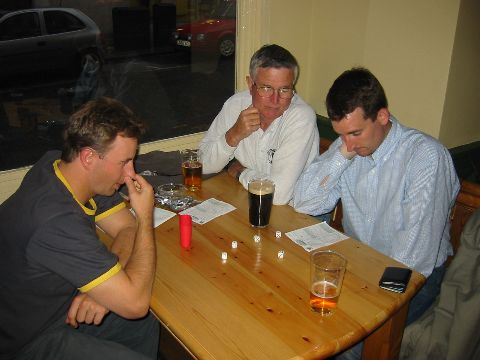 <![endif]>
Yahtzee while watching the cricket
Monday 21st April
Another relatively early start was required when participants in the bucks show were required to meet at Clapham Junction to catch the 10.00 train to Brighton.  Staggeringly, everyone arrived on time, including Garry.   Frank returned from his country sojourn looking about 10kgs lighter, after being permanently attached to a toilet for the entire time - a result of his Qantas inflicted food poisoning.  This caused Frank to be a lamer than usual participant in the ensuing bucks night events.
<![if !vml]>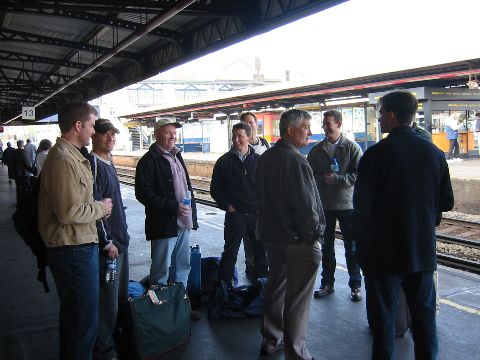 <![endif]>
The crew gathers at Clapham Junction
Arriving in Brighton, it was on to enjoy some traditional English fare at the "All American Diner".  Graham McVey met the crew in Brighton just in time to buy everyone a round of beer.  Top quality lagers like Budweiser and Coors were enjoyed by all.  The quality of the waitresses in the restaurant lead Jan to give Brighton his official "Tidy Town" rating.
<![if !vml]>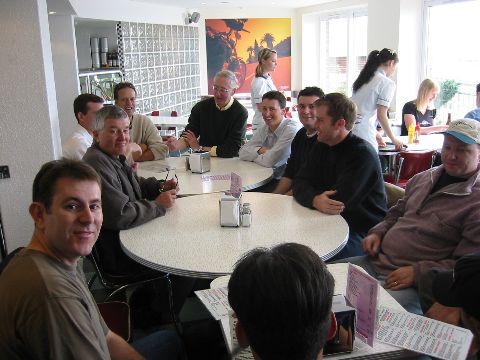 <![endif]>
Lunch at the All American Diner
From there it was on to "Demolition Paintball" for some good old fashioned shooting of each other.  As the groom, Denno was required to wear big pink ass cheeks, which sometimes proved difficult to hide.  Despite some extremely suspect tactical advice by the hosts, a great time was had by all.  The worst injury suffered appeared to be by Derek, who was the recipient of some accurate target practice by Banker.  Apparently in Frank's book, a minimum of 10 shots in the back are required to kill an opponent
<![if !vml]>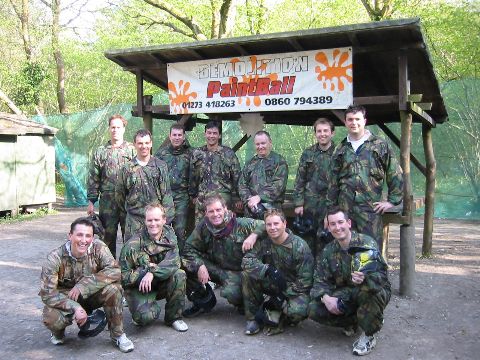 <![endif]>
Paintballers..
<![if !vml]>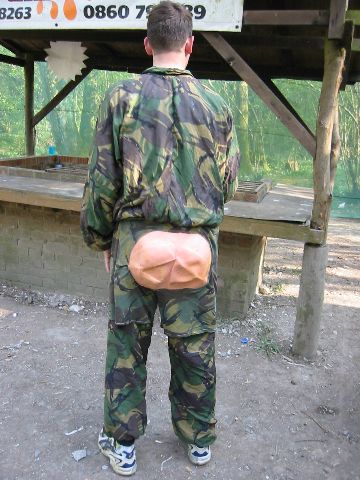 <![endif]>
Denno and his ass cheeks
<![if !vml]>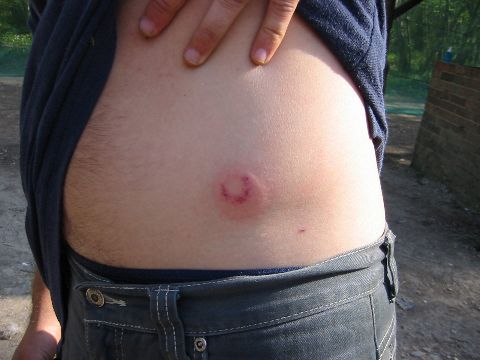 <![endif]>
Jan shows off one of his paintballing injuries
After hostilities had ended, it was a short walk down the road to the "Shaved Snatch" for a few pints while waiting for taxis.  It was here that Jan was re-introduced to his old friend, the purse.  As Captain of the Ushers, he was required to hold all kitty money for the rest of the night.
<![if !vml]>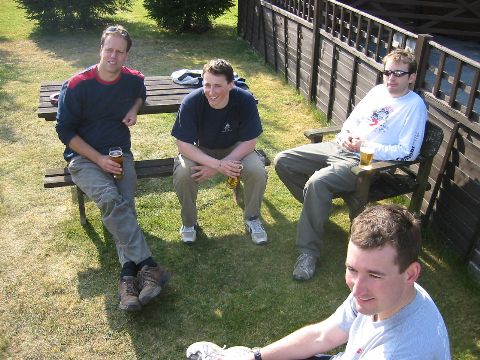 <![endif]>
Relaxing at the Shaved Snatch
Back at the hotel, it was decided that the best way to fire everyone up was to engage in a couple of Tequila roundhouses before heading out for dinner.  Denno was surprisingly reluctant, apparently forgetful that he forced Davo to drink an entire bottle of Tequila at his buck's night.  The Manager of the hotel took quite a fancy to Garry and went so far as to ask which room he was in.  Garry responded by saying he might be interested if she were 40 years younger and believed in dental hygiene.
<![if !vml]>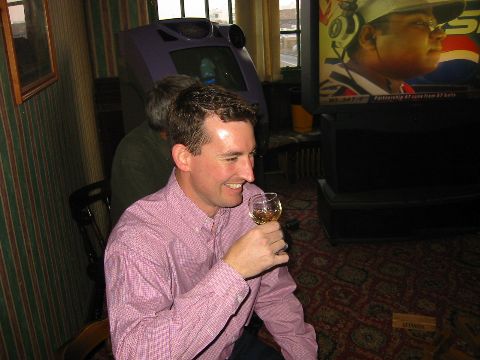 <![endif]>
Denno sampling his first tequila
From there it was on the Donatello's Italian Restaurant, which received positive reviews from everyone except Jan, who could not quite believe that "Quattro Formagio" was actually just Pasta and cheese.   A few more roundhouse skulls of beer were enjoyed by all, with the focus being on Denno.  At this stage Denno got a bit feisty and claimed that he was on the verge of being sick.  Gareth Baker, apparently not aware that this was the express purpose of the night, took pity on Denno and escorted him to the Lady's room so they could both powder their noses. 
<![if !vml]>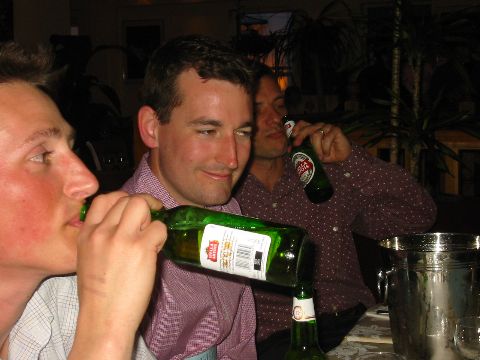 <![endif]>
Denno looking bemused by all the drinking…
<![if !vml]>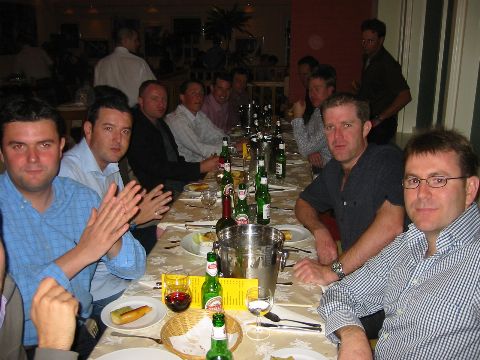 <![endif]>
A few of the Lads at Donatellos
<![if !vml]>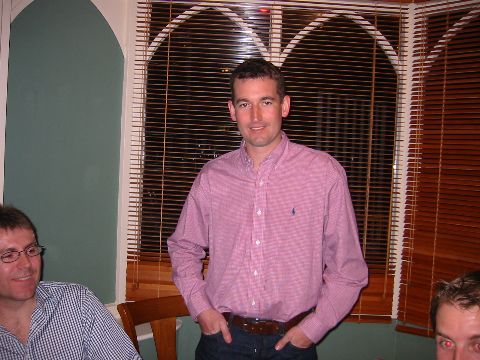 <![endif]>
Denno, looking fine in his pink Ralph Loren
Some chicks at an adjoining table thought Denno looked like a responsible sort, and after giving him some words of wisdom about marriage also tried to give him her baby.  Jan was momentarily excited when he thought she had said ".. would you like me to have your baby".
<![if !vml]>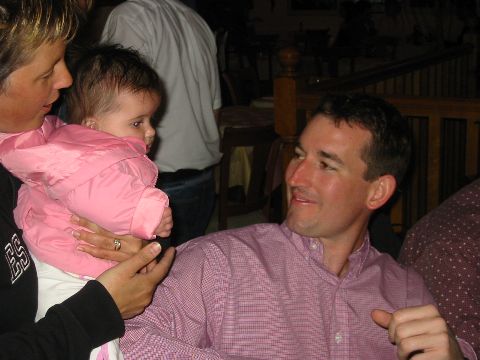 <![endif]>
Some lady tries to palm her baby off onto Denno.
From there it was on to "The Honey Club" to continue festivities.  Vast quantities of alcohol were consumed by everyone except Banker.  The favorite drink appeared to be the Shark Splash – a mixture of vodka and Red Bull.  No one is quite sure what the impact of simultaneously ingesting a depressant and a stimulant are, but there were no immediate side effects. 
Denno got into the swing of things early by dancing with a couple of Hens – Hens who were getting married to each other!  The evening also saw the rise of James "Sluggo" Duggin as the so called "Son of Jan".  Jan agreed to tutor Sluggo on the finer points of nearly picking up chicks.
<![if !vml]>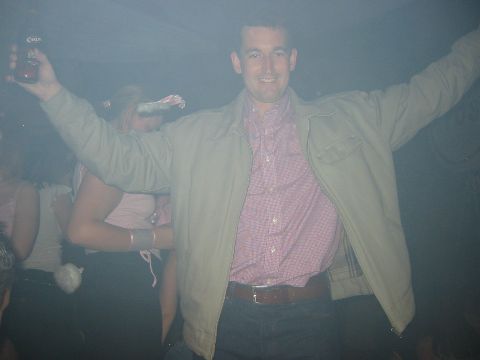 <![endif]>
Getting into the swing of things early
<![if !vml]>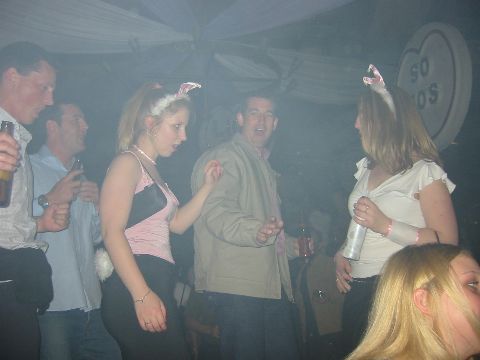 <![endif]>
The lesbian Hens
<![if !vml]>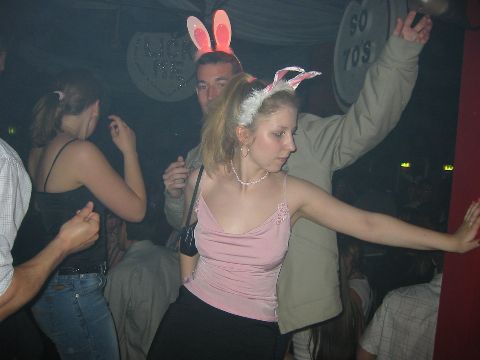 <![endif]>
Is this some form of funky dancing or what?
<![if !vml]>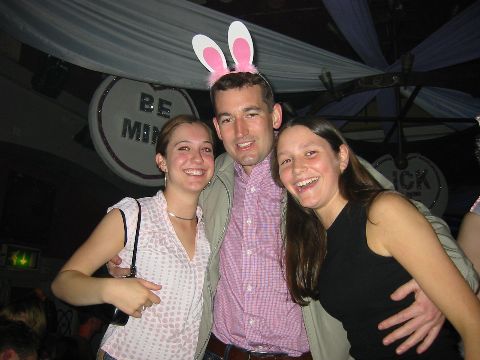 <![endif]>
Two strangers taking pity on the buck
<![if !vml]>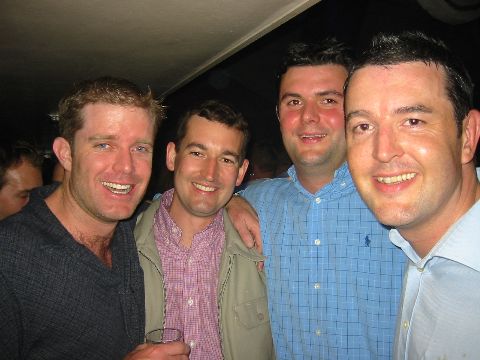 <![endif]>
Garry, Dennno, Dave (D-Mac) and Paul
<![if !vml]>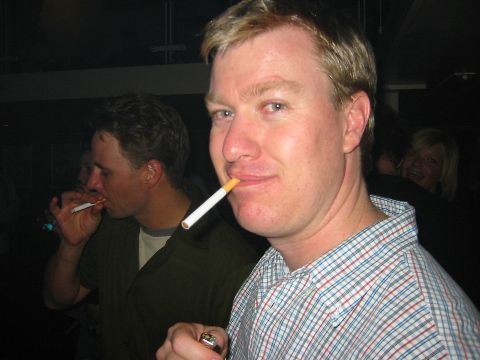 <![endif]>
Brad Dare, showing that smoking IS cool
Nothing is quite as impressive, or quite screams "Bucks Night" like a bunch of guys on the stage in a circle with their arms around each other, singing "Sweet Child of Mine".  The rest of the club's patrons were equally impressed. 
<![if !vml]>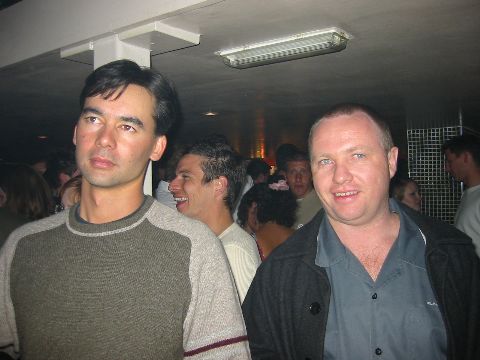 <![endif]>
Captain and Vice Captain excitement, Frank and Derek
<![if !vml]>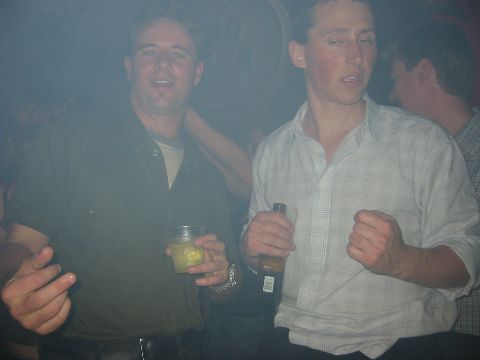 <![endif]>
The Master and the Apprentice
<![if !vml]>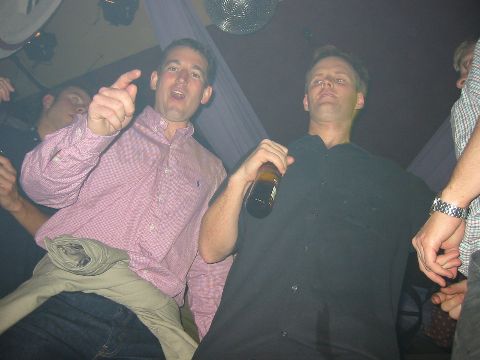 <![endif]>
Denno and Davo doing some stage dancing
Proceedings were forced to end when the club closed, some time around .  The Lad's all found there way back to the hotel.  Jan, who caught one of the earlier taxis, was discovered asleep on the bathroom floor.  Apparently he considered the journey of 5 feet from the toilet to his bed too daunting in his current state.
Tuesday 22nd April, 2003
Surprisingly, most of the Lads were up and about early with few ill effects.  No-one was as impressive as Dave McIntosh, who rose at and caught the train back to London for a full day at work.  Perhaps the fact that everyone drank several litres of Red Bull had something to do with it.
<![if !vml]>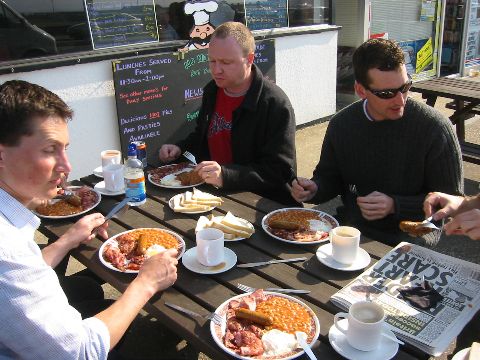 <![endif]>
A full English breakfast – just what the Doctor ordered
Denno, Frank, Derek and Davo stuck around Brighton for the morning and took in the sights.  Relaxing on deck chairs on Brighton Pier was a highlight.  A stroll down the famed pebbled beach was also in order, proclaimed by the Times of London to be one of the top 20 beaches in the world.  Obviously sand and the ability to swim in the water were not a criteria in there rankings.
<![if !vml]>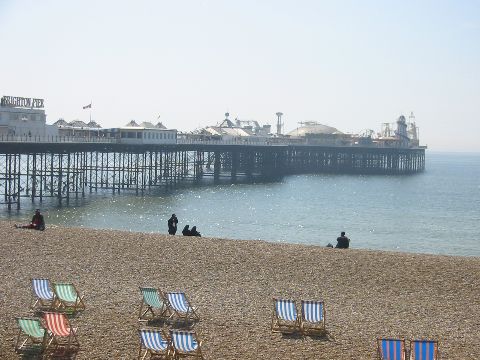 <![endif]>
Pebble beaches and the Brighton Pier
<![if !vml]>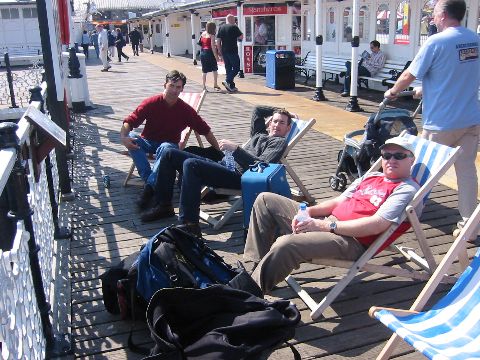 <![endif]>
Lounging on the Pier…
After several relaxing hours, everyone except Derek jumped on the train back to London.  Derek, pretending that he was actually an Architect, was off to Barcelona to indulge in a bit of Gaudy.
Back in London, it was decided that attending the quiz night at the Settle Inn was an excellent idea, and Denno, Lou, Chief Bridesmaid Jo, Jan and Davo partook.  Performance was not nearly as good as expected, and no prizes were won.  Fortunately, there was a question about Gaudy, but unfortunately, the English crew (Denno included) could not come through on the questions about famous poms.
Wednesday 23rd April, 2003
Wednesday was very pleasant with Denno treating Davo and Jan to game of golf in Surrey.  Amid superb surroundings, Jan excelled in his first game of golf on two years and broke the course record, which should tell you something about the English's ability to play golf.    The outing was almost marred when Jan got a bit excited and sent his drive sailing past the heads of the group in front.  In typical English fashion, they apologized to us for being slow.
Thursday 24th April, 2003
Thursday saw the end of relaxation and the start of wedding stress.  Davo and Jan visited the Dennett family and luckily arrived just in time to escort them across London to attend the suit fitting.  Arriving 3 minutes late, all were greeted by an irate Denno who was about to spit the dummy and leave.  Fittings went well, with the exception being Derek, who's pants were about 6 sizes to small. 
A large contingent met in Clapham Junction for drinks and pleasant Italian meal.  Denno once again demonstrated his propensity for acquiring accents.  Already developing a cultured English clip, he put on a lovely italian accent when ordering his meal.  After dinner, Jan walked past the Clapham Grand like an alcoholic walks past an open bottle of scotch, but he resisted the strong urge – perhaps taking comfort in the fact that he would be returning to his beloved Metro in just a few days. 
Friday 25th April 2003
Just one day to go before the big event, and still no respite for Denno, who was perhaps the groom with the most responsibilities ever.  All the lads met at Denno's around lunchtime and it was off to the church for an Usher's meeting.   Everything appeared to be too easy, and Captain Jan showed early confidence.
<![if !vml]>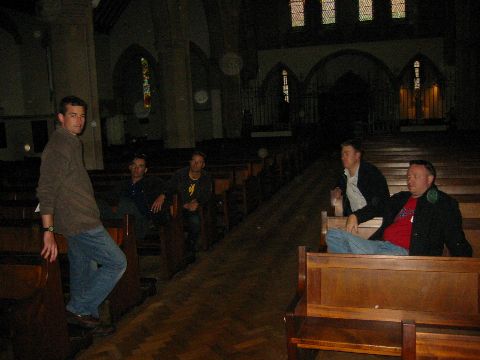 <![endif]>
The Usher's Meeting
Following this, the Ushers were dispatched to a bar while Davo and Denno stuck around for the rehearsal.  Once again, everything was under control, except when the Canon pointed out there was an open grate directly below were Davo would be standing with the rings.  Davo, who does not exactly have a stellar record when it comes to handling rings, was suitably alarmed and requested that he swap positions with the Denno on the day. 
From there it was off to, surprise surprise, another Italian place for dinner.  Despite repeated warnings from Davo, Denno insisted on eating everything on the menu that said "extra garlic".
<![if !vml]>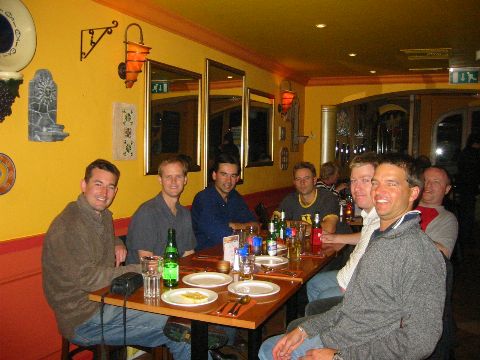 <![endif]>
Garlic was on the menu for Denno
Derek, Banker, Davo and Denno retired back to the apartment for a bit of relaxation, which entailed drinkning very nice wine and watching some classy television – Jackass.  This was by far the most excited Frank got during the entire trip – apparently watchuing stupid humans trying to hurt themselves appeals to his sense of humour.
Saturday 26th April 2003
An early start was necessary and was rewarded by Derek cooking up a superb feast of bacon sandwiches.   With over 8 hours to go before the wedding, the Lads relaxed and watched an Australian Classic – The Dish.  Denno was perhaps the calmest he had been all week, belying the fact that he was on the verge of taking the plunge.  Getting ready was an orderly affair, with the Lad's looking resplendent in their West Coast Eagle themed yellow waist coats and blue ties.  Everyone was ready and an on time departure was made.  Jan and Davo dropped past the Berkeley to make sure the bride and her parents were not going to be late, and to collect the button holes.  Margaret was calm, but Graham was showing Denno-like signs of stress.
<![if !vml]>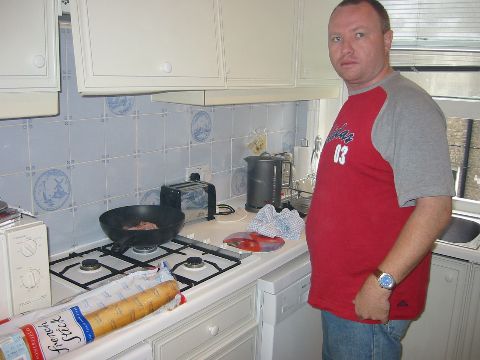 <![endif]>
Derek the Bacon Chef
<![if !vml]>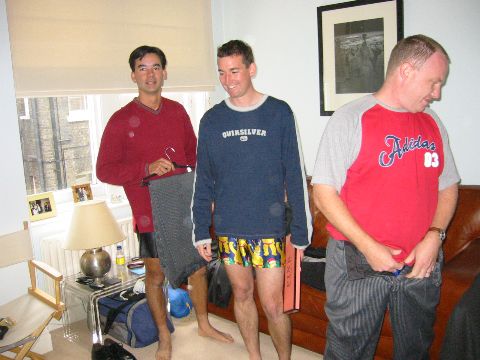 <![endif]>
The lads in various states of readiness
<![if !vml]>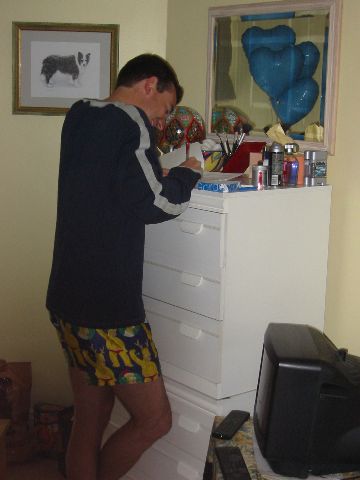 <![endif]>
Some last minute speech preparation
Everyone converged at the Lord Codswallop (aka Admiral Coddrington) for pre-wedding lunch including the MC, Steven "Shaq" Jagusch.  Steven wisely advised Denno that he should call Louise to make sure she was still coming.  A fine lunch was enjoyed, and Steven James ensured everyone was refreshed by ordering at least one of every bottle of wine off the menu.
<![if !vml]>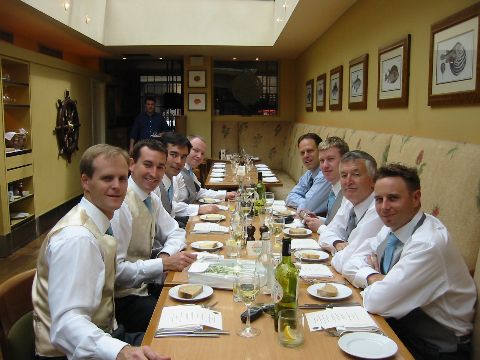 <![endif]>
Lunch at the Lord Codswallop
Davo marshaled the troops and had to deal with a few stragglers in order to get to the church by .  Despite this early arrival, guests were already arriving and the Ushers were sent into a wild panic.  In general, the Ushers performed well.  The only notable exception was when Captain Jan evicted some family from their rightlful place in the third row, and was met with a cry of "but can't we set next to our mother".
There was another slight upset when the big red bus parked in front of the church – a place he was explicitly forbidden from by Denno and Louise.  Apparently the driver had just narrowly avoided being arrested for driving in the wrong part of town and saw this as his only option.  Needless to say, he didn't take too kindly to Denno's polite advice to "get the f#$% out of there, but Usher Frank smoothed things over.
Louise and Graham made a very impressive entrance, but were momentarily upstaged by Garry and Nicole, who following them down the isle.  The ceremony was a fine affair, and Davo was safe as houses with the rings.  The Ushers proved their worth by flawlessly executing the transfer of all guests from the Church to the Berkeley.
<![if !vml]>
<![endif]>
Louise and Graham arrive at the church – moments before the REAL guests of Honour, Garry and Nicole
<![if !vml]>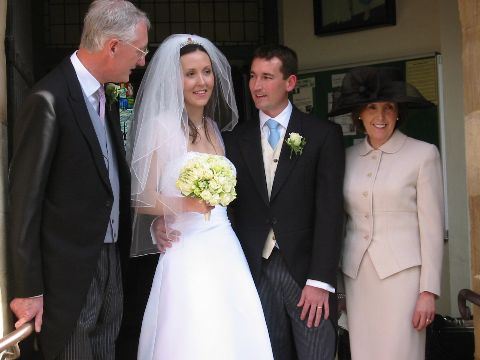 <![endif]>
The new Dennett's and the old McVeys
<![if !vml]>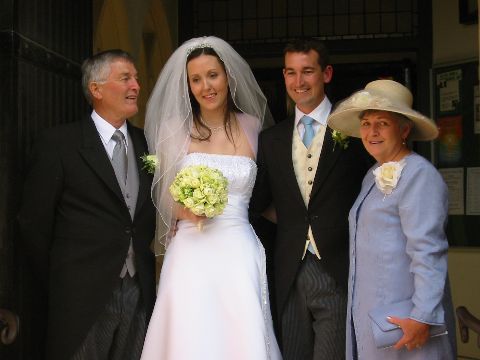 <![endif]>
The Dennetts – new and old
One of the great traditions of English Weddings is the apparent extended pre-reception drinks session.  Everyone was given a full two hours to get fully liquored up, while listening to the pleasant sound of a Carpenters cover band.  Amongst other things, Denno's taste in music has softened.
The reception was a grand occasion, partly diminished by having a Kiwi MC.  The ladies were all greatly relived when Marageret finally removed her hat, and Davo and Denno were forced to wait about 4 hours before they could make their speeches, but both went off without a hitch.  Denno was impressive in performing the bridal waltz, although close inspection showed that he was counting under his breath.
<![if !vml]>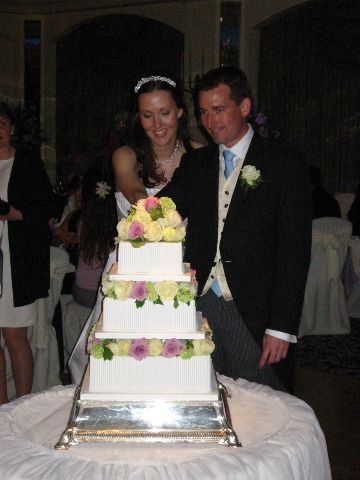 <![endif]>
Cutting of the cake
<![if !vml]>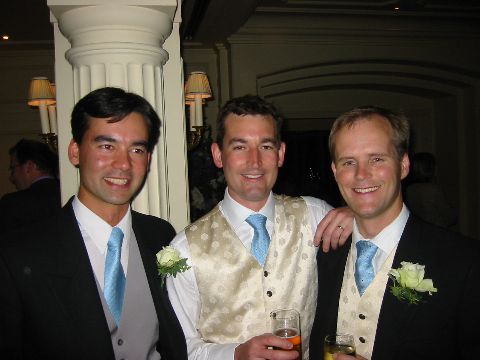 <![endif]>
Its all smiles now that official duties are finished..
Jan was once again on the prowl and must have liked his chances, because he was even dancing at one stage.  He was, however, upstaged by his new protégé James "Son of Jan" Duggin who snared one of the girls sitting next to Jan.
<![if !vml]>
<![endif]>
Jan the groove dog
<![if !vml]>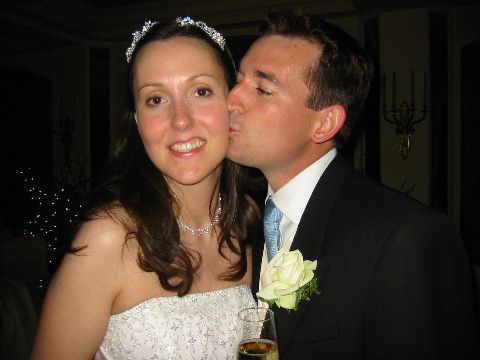 <![endif]>
The happy couple
A spectacular exit was made by the new Mr & Mrs Dennett under a veil of sparklers, overshadowed only by Tony catching the bouquet.   The Dennett's pulled a swift one by driving away in a car, only to return to the Royal Suite at the Berkeley hotel.   Retiring to their balcony shortly afterward, they had their romance soured by witnessing Jan escorting his lady friend to a cab.    
<![if !vml]>
<![endif]>
Tony catches the bouquet
<![if !vml]>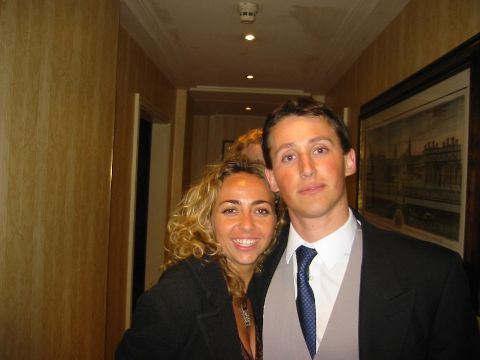 <![endif]>
The apprentice…
<![if !vml]>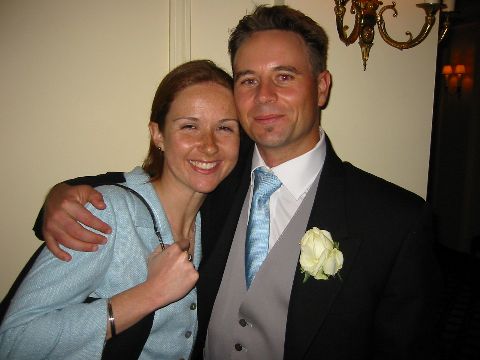 <![endif]>
..and the Master
The wedding kicked on for another hour or so, and the lads sampled everything the Berkeley had to offer that was alcoholic.  A feeble attempt was made to conjure the group into going to a nightclub, but it fell through when it was realized that everything in London had closed 4 hours earlier.  A general invitation was made for everyone to kick on back at Denno & Louise's house - Davo, Derek, Frank, Jo, Duggo and Esme all accepted. 
Everyone sampled the Dennett's booze, and the party kicked on until daylight.  Derek , who was wearing underpants for only the second time in 10 days, decided he should make the most of it, and stripped from his suit until he was wearing nothing but. 
<![if !vml]>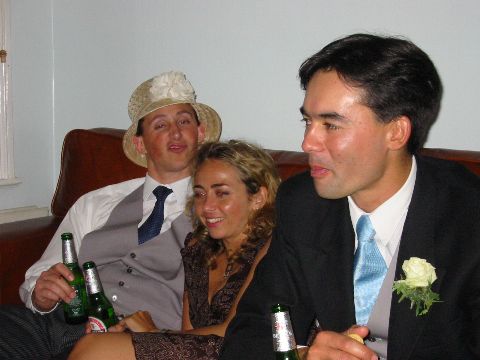 <![endif]>
Sluggo, Esme and Frank back at the Dennett's
<![if !vml]>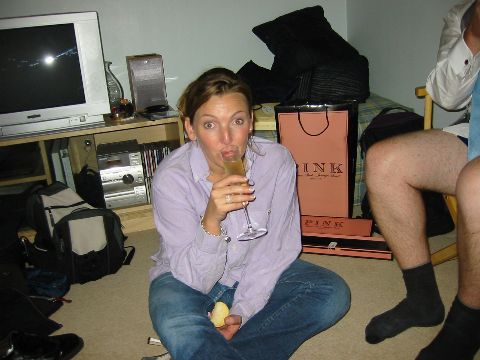 <![endif]>
Jo relaxes with some of the Dennett's finest champagne
<![if !vml]>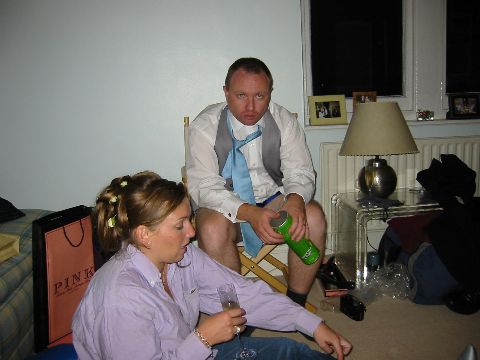 <![endif]>
Derek shows off his only underwear
Son of Jan looked like he had the sure thing, but falling asleep on the couch can not have helped his chances.  In true Jan like fashion, he received the ultimate shmarn when he tried to alight from the taxi with Esme at her place.  He was advised in no uncertain terms that he "was not getting out here!"
Sunday 27th April 2003
Yet another early start was made by the Lads, despite the "early" finish.  Bags were packed, dishes were done, the flat was cleaned and presents were left.  Everyone was downstairs waiting for a taxi when Derek decided it was time to return to the Dennett's toilet and leave one further token of his stay.
From there it was on to Kensington, where the last official duty of Best Man Davo was to shepherd the masses onto a bus for transportation to the McVey's country castle.  Not so surprisingly, Garry and Nicole were last to arrive, but an on time departure was still achieved.    50 minutes negotiating London traffic and 10 minutes pleasant drive in the countryside was all that remained before everyone was assembled at Littlehurst Castle, home of the House of McVey.
Croquet, lounging on the rugs, and sipping wine was the order of the day.  Snacks were plentiful, however Derek was extremely disappointed with the absence of Pigs in Blankets and party pies.  Sensational weather was enjoyed for a time, until true to England, it turned frigid, causing a rather hasty retreat to the indoors.    Frank and Davo demonstrated early dominance in Croquet, but play was abandoned due to the arrival of some rather excellent food.  Later entertainment was provided by Luke James and Lachlan Farrow chasing each around with Croquet Mallets.
<![if !vml]>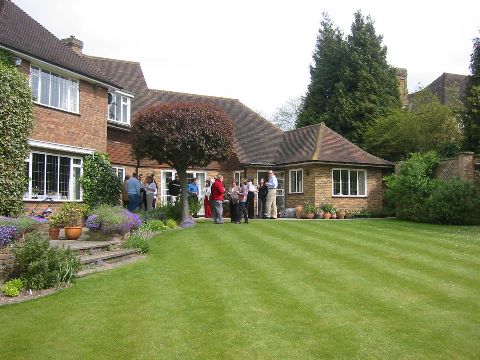 <![endif]>
Lunch at LittleHurst Castle
<![if !vml]>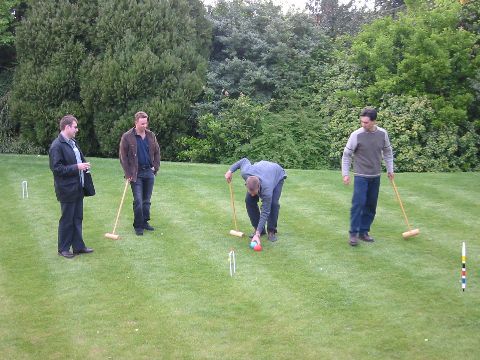 <![endif]>
A bit of croquet
<![if !vml]>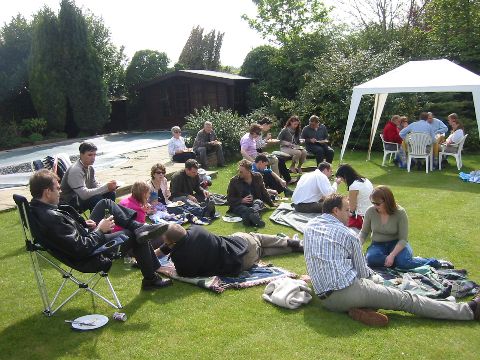 <![endif]>
..and some lounging around
Denno was wearing a Polo Ralph Loren shirt again, which meant that for the entire week, with the exception of the wedding day, he had been attired in the same brand.  "Ralph" was now an acceptable substitute for "Denno"
The Concord was spotted flying past several times and was met with considerable excitement by the normally conservative English crowd.  Cries of "..and it's British" were heard, followed by "is it going to crash?" and "I think the French had something to do with it"
The arrival of buses and taxes marked the official close of Dennett - McVey ceremonies, and a tearful farewell was made be many.  Derek, Banker, Davo and Jan caught a taxi to Heathrow and once again adjourned to the club lounge.  A game of pairs Euchre was played, and Davo and Jan would have romped, except Jan failed to win even a single trick.  Jan departed for Perth in shame, and the rest of the lads were off to Bangkok.
Davo once again slept most of the journey, but woke just in time to watch a crap movie called "The Hot Chick"
Monday 28th April 2003
Monday night in Bangkok saw the lads sample a few Thai specialties, including roadside food and Singha beer.  Everything was going well until Derek insisted on everyone taking a 40 minute taxi ride to Kao San Road, which was perhaps the deadest street in all of Bangkok.
Tuesday 29th April 2003
After a late night, everyone was keen for a sleep in, that is everyone except Derek and Frank, which left just Davo.  Derek was out of bed like a shot when he realized he might miss out on free breakfast, and he was hitting the breakfast buffet before you could say PatPong.  Davo and Frank joined Derek in the restaurant just in time for Derek to leave his indelible mark in their toilets.
Returning to the room to prepare for a full day, a mysterious mark was discovered on Derek's sheets.  No explanation was requested or offered but doubts still exist as to its origin.  From their it was a big day of shopping – Panty Plaza, the world capital of pirate software and DVDs  was the first stop and purchases were made a plenty. 
The Lads took the afternoon for themselves and agreed to meet again at .  Davo did some local shopping and adjourned to the hotel pool for drinks and a swim.  Derek spent the entire afternoon receiving a massage, and Frank's activities are still unaccounted for. 
Another fine evening was enjoyed – a particularly good restaurant choice by Derek was a highlight.  Frank received lots of attention from the Thai girls, however it could not be determined whether it was his mysterious good looks or the fact that he was not wearing a wedding ring.   The lads tried to kick on at the hotel bar, but in a London style flashback, it was closed.
Wednesday 30th April 2003
Wednesday morning was like Groundhog Day - Derek was once again up early for breakfast (prompting Davo to ask "Where's the f#$ken fire?"), and even repeated his dumping in the restaurant toilets.
Last minute shopping and packing were completed before heading for the airport and the final flight home.   Frank and Derek were quarantined at Perth Airport – Frank because he had dirt on his shoes, and Derek because Customs could not believe he had been away for two weeks and only had one pair of underpants in his bag.